Ever since I came to Kolkata, I realized there are hardly any options for people on the move looking for a refreshing drink. Barring some specific areas like Camac Street and College Street, you do not find any decent road side juice shop as well :(
The Yellow Straw - Kolkata's 1st Juice Bar
Therefore, when I heard about The Yellow Straw, Kolkata's first juice bar chain, I was excited to try out their offerings. Due to hectic work schedules, I could not find time to visit the place. But thankfully I managed to visit the place recently. It perfectly fits the Summer Essentials series I am currently running on my blog :)
Conceptualized by Piyush and Vikram, The Yellow Straw is a unique concept in Kolkata. Their juices are cold pressed and they keep the pulp intact. Hence, the juices are filling with no use of water in them. They have two outlets in Dalhousie and several smaller stalls/carts in Ecospace, RDB,Tolly Club etc. You can easily spot them in several important fairs and exhibitions of Kolkata as well.
The outlet is peppy and is done up in yellow with fun posters. While you wait for your juice to arrive, you can keep yourself busy with the numerous games they have.
When I was asked to order, I asked Piyush for recommendations. When he heard that I like spicy food, he suggested the perfect thing for me - their Chilli Phataka Straw. Oh, what a delight that is ! A mixture of kiwi, pineapple and green chilly, this gives your taste buds the required punch. One glass of the juice was close to a satisfying meal and so healthy !
Chilli Phataka Straw
They have several others including Healthy Straw, Skin Glow Straw, Yummy Tummy Straw to name a few. And the best part is the fact that they don't cost a bomb :)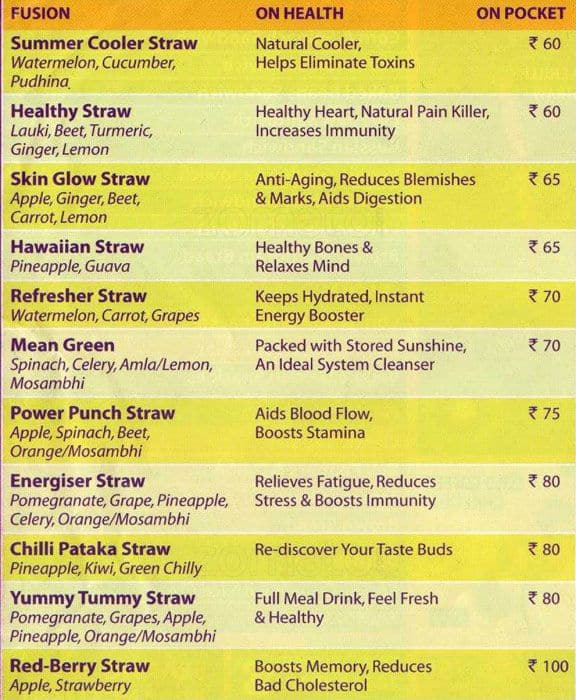 Next we tasted the Melody Melon Straw, a blend of watermelon and muskmelon. This is one of the new items on their menu, especially for the summers. A perfect drink to rejuvenate and relax, this was just what we needed to beat the heat outside.
Melody Melon Straw
Some of the other new launches on their menu are:
1. Heart Beet Straw (Tomato, Beet, Carrot, Ginger, Lemon)
2. Rejuvenator Straw (Apple, Pineapple, Lemon)
3. Citrus Granate (Sweet Lime/Orange, Pomegranate)
4. TYS Special Straw (Strawberry, Grapes, Watermelon, Pineapple)
5. Melody Melon Straw (Watermelon, Musk Melon)
6. Banana Melody Shake (Banana, Musk Melon)
7. Fruit Salads
8. Fruitzee Sundae
9. Kiwi Granate Straw (Kiwi, Pomegranate)
It is interesting to know how they have turned the most boring vegetables and fruits into refreshing drinks. If you cringe while having your daily dose of veggies, try having it here in your juice at The Yellow Straw.
They also have snacks and yummy desserts to satisfy your hunger pangs and sweet cravings. Their mango sundae is quite popular among their regular visitors. I missed out on the dessert this time as I was already full post the juices and the cheese chilli toast. However, It tops my 'must try' list next time I am there :)
Cheese Chilli Toast at The Yellow Straw
If you have visited the place, please share your thoughts. If you haven't been to this place, do check it out and share your reviews.